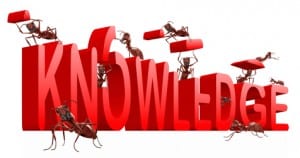 What's the best way to transfer job knowledge from one person to the next?    Employees often find a better way of performing their job but aren't sure what to do with the new information.  Ideally, the next person performing the same job should be able to apply this new knowledge, making it a valuable resource.
How do companies provide answers when employees have new work-related questions?  This is a common occurrence in today's dynamic business environment.  There are always new situations that pop up, initiating questions from employees.
Maximizing the Value of Job Knowledge
To handle these typical scenarios, companies go through a progression of four stages for managing job knowledge.  Completion of the stages allows organizations to fully maximize the value of this knowledge by ensuring that it's effectively retained and communicated.
The four stages of managing job knowledge include:
Issue identification.  This represents the earliest stage of job knowledge progression.  The employee recognizes that they are missing some knowledge and have identified an issue.
Investigation to find a solution.  In this stage, company personnel are applying their expertise and creativity in an effort to find a solution to the issue. The investigative effort can vary from conducting: 1) simple searches for answers, to 2) designing a complex system in order to resolve the problem.
Expert knowledge achievement.  The solution is found in the expert knowledge stage after completing the investigative effort.  Only a few individuals may be aware of the solution i.e. the subject matter experts.  At this stage, it's difficult for other employees to obtain the expert knowledge and companies run the risk of losing it.
Conversion of expert knowledge to common knowledge.  In the final stage, the new knowledge found to address the issue is documented and made readily available to employees when they need it. The expert knowledge gained in the previous stage is communicated and shared by everyone, converting it into common knowledge.
How are companies able to achieve the final stage?  They need a vehicle for recording and transferring new job knowledge.  Using procedures to capture job knowledge provides an easy solution. The resolution  should be added to the procedure, associated with the job where the problem was initially identified.  Updating the procedure ensures that other employees are notified about the solution.  The procedure becomes a more complete job knowledge resource for both current and future reference.