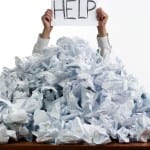 Is finding job information in your company a straightforward process or a scavenger hunt? Organizing procedures by individual jobs makes is easy for managers and employees to find job instructions. There's no need to dig through a series of documents for answers to job-related questions.
Eliminate the guesswork!
Procedures should represent a clean list of all the jobs employees perform for their company.  Management and employees ought to be able to easily navigate a list of procedures so that:
Managers can identify all of the jobs performed in their business area.
Employees know exactly what jobs they're responsible for by procedure.
In order to make sense and provide usefulness, procedures need to be job-based. Procedures should be organized by jobs employees perform, where one job equals one procedure. Individual procedures describe the work instructions or steps that employees perform to complete a particular job. Assigning one job to each procedure eliminates confusion and makes it easier to access information.
Procedures help implement organizational changes.
Procedures also make it easier for business areas to address changes, resulting from new business initiatives.  The first question employees ask is how company changes will affect them. Management is able to easily communicate the ramifications of changes to employees by:
Modifying current procedures to reflect changes in employee jobs.
Creating new procedures for additional jobs that will need to be performed as a result of the changes.
What happens on bad memory days?
It's hard to remember all job instructions.  Recording job-based information in procedures gives employees an ongoing knowledge resource for quickly looking up information.  Procedures become their go-to source, giving them a better understanding of how their job should be performed.  This leads to less employee error and greater efficiency.
Are your procedures organized in such a way that employees can easily locate information?  If not, you may want to try a different approach that maximizes the benefits of using procedures.  Click on the following button for more information: