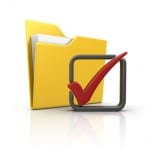 Company records are the proof that an organization is complying with its' procedures and policies.  In order to guarantee the quality of records, it's important to monitor how they are used within the company.  They must be accurate and easily retrieved in order to ensure compliance and be useful to employees.
Managing the Quality of Company Records
The information in your procedure management application is able to capture a wealth of information that describe the actions involved for managing how records are implemented into the business process.  They govern the employee instructions of how, when and who uses a record.
Several procedure may be involved when using company records.  For example:
Creating and Collecting – a procedure containing the instructions to create or collect the record.
Referencing and Updating – additional procedures with instructions for referencing or updating the record.
Monitoring – a procedure for performing a quality review of the record information.
Storing/Filing – a procedure that provides instructions on how to properly store or file the record.
Auditing – procedures containing instructions for retrieving the record and performing an audit review.
Procedure Management Applications vs. Word Documents
A procedure application gives you the capability to make better use of procedure information by providing more control vs. using Word documents.  It eliminates the extra work required to manage documents and is designed to help you focus on using the information within a procedure.
Procedure management applications allow you to link multiple procedures to a single record and manage their maintenance.  This feature provides an efficient method for processing modifications that may need to be made to the affected procedure due to a record change.  An application also helps you define the quality guidelines for a particular record so that the user understands its' function.
More Control for Implementing Changes
Storing information in a single application gives you better control to process implementation changes.  What happens when the structure/design to a record is changed i.e. a new field is added to the record form?  There's no need to rifle through a bunch of Word documents in order to figure out the impact of the change to employee instructions.  A procedure management application will present the impact of how and when the field will be used so that you can quickly implement the change by being able to:
Identify the actual procedures and specific instructions that use the record.
Update the instructions to incorporate the record change.
Automatically communicate the new instructions to the affected employees.
By managing procedure information in an application, you can focus more on the implementation planning process which reduces documentation time.  The benefits of using an application are twofold:
Faster implementation of business changes.
Less documentation where updated procedures are a by-product of implementation.
Additional Uses for Procedure Management
Procedure management applications are not limited to helping organizations manage only company records.  The same benefits for using an application to handle records can be applied to the implementation of other business changes, involved with:
Software implementation
New regulatory requirements
Process improvement initiatives (Six Sigma)
To learn more about how procedure applications can help you manage the quality of company records and other information, please contact us directly.
Connect with us