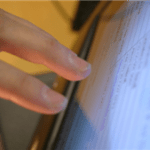 What makes a procedure more complete?  The procedure should include descriptive source information of where users perform their work.  Capturing this information makes the procedure more relevant to the user since it gives them a better understanding of how to get their job done.
What is the "Where Component"?
The "where component" in procedure writing usually consists of software screens or other sources of company information (spreadsheets, forms, etc.) that employees use to complete the tasks in a procedure.  Although most software vendors provide user guides with screen information, they are often too generic and lengthy for employees to navigate through.  Also, companies may use only a subset of the features and screens offered by a software product.
What's the solution?  Make user guide information more company specific by including source information within the procedure.  Referencing the screens of where the work is performed provides users with an aid for understanding the procedure.
Listing source information in procedures has multiple benefits:
Makes procedure writing easier.  Less detail needs to be listed in the steps of the procedure if the source information is included.  For example, depicting the software screen and fields used makes the instructions more intuitive.
Allows re-use of source information for multiple procedures.  The same source information screen can be used again for a different purpose and procedure.
Improves employee training.  Use of source information gives employees a better understanding of how the job is performed when reviewing procedures.
Maintaining procedures is easier.  If the source information changes due to a screen modification, users are made aware of the corresponding procedures affected by the change (use a procedure software application that has this capability).
The overall benefit of including the "where component" or source information in procedure writing is that procedures become more meaningful to users.  It gives them clearer direction about how to perform their job.