The Five Moments of Learning Need model describes five moments where there is a need for employee training and learning.  Authors Bob Mosher & Conrad Gottfredson developed the "Five Moments of Learning Need" model as a learning strategy to sustain effective employee performance.   Satisfying these moments of learning needs, requires routine exposure to training materials in order to sustain proficiency for performing tasks.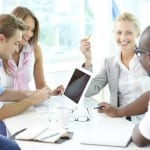 NotoWare is a system that provides employees with reliable access to training materials, allowing them to stay productive while performing their job.  Listed below is a review of the Five Moments of Learning Needs and how NotoWare can be applied to fulfill those needs.
1. First Time Learning Moment
This learning moment is when employees are introduced to pre-existing practices for performing their job tasks.  First time exposure only provides a start to the learning process. They will need future learning moments to become proficient in performing their job tasks.  NotoWare embraces first time learning by providing a platform where employees are introduced to the practices.  Also, they become familiar with how to quickly retrieve this information for future use.
2. Expanding Learning Moment
This learning moment involves employees generating their own knowledge by developing or improving the practices for job tasks. The expanding learning moment is similar to the first time learning moment in that it only provides a start to the learning process. The new expanded knowledge needs to be added to the training materials so it's available for future learning moments.   NotoWare supports expanding learning by providing a method for employees to easily capture and preserve this new knowledge while it is being developed.  Using NotoWare, the new information will be retained and kept available for future learning moments.
3. Apply Learning Moment
Apply learning moment can be described as on-the-job learning where the employees are being productive while they are learning the job knowledge.  Apply learning is the most significant of the learning moments since is it finishes the learning process for the knowledge identified in the other learning moments.  NotoWare supports apply learning by providing quick access to job knowledge through the use of its' employee portal.  While employees are performing their jobs, they can retrieve answers to questions within a couple of seconds using just a few mouse clicks.
4. Problem Solving Learning moment
Problem Solving Learning Moment is when employees are involved with generating solutions to unintended problems.   Problem solving is also similar to expanding learning in that solutions needs to be captured and preserved to be available for future learning.  NotoWare provides branching logic where the solutions to problems are attached to the core job task training materials.  Using branching allows employees to follow the instructions for the core task and apply the branch instructions only if they encounter the problem conditions.
5. Change Learning Moment
Change Learning Moment involves when employees are modifying job tasks with improvements or problem solving solutions. These changes may only apply to a subset of the instructions used to perform the job tasks. For change learning, the employee will focus on portions of their job tasks impacted.   NotoWare addresses the learning transition for the changes by first sending out email notifications for reviewing the modified job tasks.  To accelerate the integration of changes the modified portions are marked for easy identification and are accompanied by change notes.