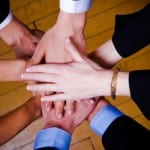 NotoWare provides you with a standard tool for documenting and communicating procedures that can be used by all business areas.  It facilitates the collaboration of multiple job functions for contributing to the successful development and maintenance of procedures.  Procedure management involves an overlap of several job areas including IT personnel, process owners, support personnel and end users.  The benefits of using NotoWare for specific job applications are listed below.
IT Personnel
NotoWare is a procedure management tool that allows IT personnel to support a company's software applications.  NotoWare is used to: develop procedures for software implementation, manage procedure enhancements, assess future software requirements and document IT maintenance procedures.
1. Software Implementation – NotoWare can be used to facilitate the team effort between the IT department and business users in defining how employees will use the company's software in order to meet their business needs.  With NotoWare, the two groups can collaborate on developing the procedures that best describe the use of software applications.
2. Procedure Enhancements – IT personnel modify procedures as they develop support information such as work around steps for addressing software problems.  NotoWare stores this support information directly within the procedure, consolidating the additional information into a single enhanced procedure.
3. Future Requirements – NotoWare can become a resource for the IT department as they address future system enhancements by reducing investigation time since it provides up-to-date procedure information.  It also supports impact analysis by identifying the relationships between procedures and application features.
4. IT Maintenance Procedures – In addition to supporting the users with their procedures, NotoWare can be used by IT personnel to document their own set of maintenance and support procedures for maintaining the company's software applications.  These procedures may include instructions for data recovery, correcting data problems, backing up data, etc.
Process Owners

NotoWare provides process owners with a system for managing procedures required for the smooth operation of their business area.  They can access and manage procedures for each process that they're responsible for.  NotoWare also ensures that procedures are complete so that employees can go to a single source for their information.  Process  owners can use their expertise to improve a process by documenting additional instructions and problem resolutions in NotoWare as new issues develop.  NotoWare provides process owners with a system to:
Record procedures for each process.
Maintain procedures so that they are current and accurate.
Keep employees up-to date with the latest information.
Improve processes by sharing solutions with co-workers.
Maintain an audit trail for procedure changes.
Manage complex work flows using NotoWare's branching logic.
Support
NotoWare provides support personnel with a system for documenting additional instructions when addressing software or business issues. It makes their job easier by allowing procedure enhancements and support information to be stored directly within the procedure.  Procedure updates and problem resolution information is then made available to both current and future users.  This reduces the need for contacting support personnel when a problem arises since the solution is already documented.  NotoWare gives support personnel a system where:
Support information and enhancements are stored directly in procedures.
Procedure updates and problem resolutions are made readily available to users.
Users can resolve their own issues without contacting support.
End Users
NotoWare benefits end users by allowing them to easily document and maintain procedures which are needed to perform their job.  Expert knowledge is recorded to improve the efficiency of their tasks.  This knowledge can also be easily shared with co-workers.  NotoWare reduces the hassle of finding information and employees won't need to "reinvent the wheel" when seeking answers to job related questions.  NotoWare provides end users with:
Quick access to procedure information.
Easy updating and maintenance of procedures.
Location for recording expert knowledge.
Method for sharing innovative solutions with co-workers.