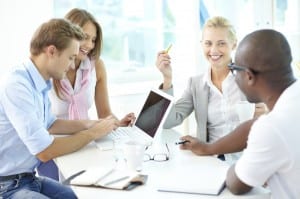 NotoWare software provides employees with the job knowledge they need for better performance and greater self-sufficiency.  It allows employees to easily find and share the latest information, making job knowledge a go-to resource they can apply.  NotoWare is a versatile database application that enables companies to quickly implement changes and communicate new process information to employees.  This includes up-to-date procedures, work instructions and job task details.  NotoWare also promotes team collaboration by giving employees a platform for problem solving.
NotoWare maximizes the use of job knowledge to help improve business processes. Both managers and employees benefit from using NotoWare:
Managers gain better control of their business processes and have peace of mind.
Employees are able to complete their work more easily with improved performance.
---
How can NotoWare help you?
1. Smoother Business Operation
Increases Efficiency

– minimizes work disruptions with quick access to information.

Ensures Quality

– reduces job error by providing clear, up-to-date instructions.

Improves Responsiveness

–  makes it easier to handle the impact of employee turnover.
2. Employee Empowerment
Reduces Training Time

– gets employees up to speed faster with hands-on job knowledge.

Encourages Self-Sufficiency

– provides relevant information needed for performing tasks.

Simplifies Documenting

– offers templates to capture procedures and work instructions.
3. Faster Change Implementation 
Promotes Collaboration

– gives stakeholders a platform for identifying and communicating process changes.

Facilitates Process Improvement

– captures incremental improvements for more effective change management.
4. Better Process Control
Promotes Compliance– helps demonstrate compliance with policies and regulations.

Monitors Changes

– uses approval process with built-in review and sign off feature.

Keeps Audit Trail

– maintains records of document revision history.
5. Knowledge Management
Retains Job Knowledge

– makes knowledge a useable asset that's retained and applied.

Centralizes Information

– stores job knowledge in a central location for ready availability.

Builds a Repository

– captures job expertise that's used to build an ongoing knowledge repository.
To sign up for a free on-line demo of NotoWare, please click on: NotoWare Demo Sign-up.