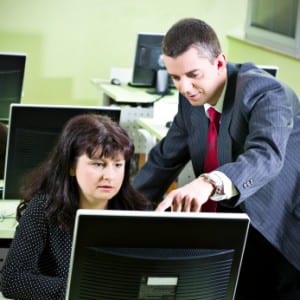 NotoWare is a web-based application that provides a convenient job aid for ongoing employee training. NotoWare's flexible design empowers employees by providing them with a list of job specific information that's displayed in a single screen on their desktop.  Employees can quickly locate their instructions and return to work with minimal job interruptions.  NotoWare reduces training time and improves performance, ensuring greater efficiency and accuracy.
1. Employee Training and Orientation
Provides a convenient job aid.  NotoWare accelerates employee learning by providing a consistent way to capture and apply job knowledge.  This knowledge is organized into procedures and task instructions that are displayed on a desktop as a daily job aid.  Employees can locate answers to job-related questions within seconds, using just a few mouse clicks.  NotoWare also keeps employees up-to-date with the latest information.
Re-uses job knowledge as a training tool.  The job knowledge retained in procedures can be used as the basis for training during initial employee training sessions.  There's no need to create separate presentation material since procedures contain the details of how employees perform their job.  NotoWare allows embedding of images, links and videos within procedures in order to enhance training presentations.
Gets employees quickly acclimated.  NotoWare simplifies employee orientation by providing procedures for completing the on-boarding process.  This includes important information such as instructions regarding forms, company policies, safety pre-cautions and the employee handbook.  NotoWare also provides an audit trail feature that tracks the review and sign-off of procedures.
2. Post Support Training
Gives employees a resource for training information. Employees usually retain only a percentage of the information  presented during training sessions.  With NotoWare, job instructions are easily retrieved and made available to employees when they need it. It provides ongoing employee performance support, leading to greater job satisfaction.
3. Continuous Improvement
Allows continuous updating of procedures.  NotoWare provides a  central knowledge repository that employees access to find the most up-to-date procedure information.  It allows easy updating of procedures while keeping a record of changes and enhancements.   NotoWare also has a branching feature which allows users to include instructions for handling atypical job scenarios.
Summary of NotoWare Benefits:
Convenient job aid for ongoing training.
Employee-centered, providing job specific procedures.
Quick retrieval and updating of information.
Retains knowledge in a central repository.
Easy access using a browser; no software downloads.
Request Free ConsultationEmployee Training and Orientation
Related topic: Using Procedure Software for Employee Training