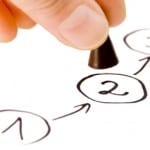 Policy and procedure management systems have evolved from focusing on mainly documentation methods to helping companies concentrate on managing their processes.  This puts managers in a better position to handle the dynamic nature of today's business environment.  The introduction of procedure management applications has greatly improved the process of managing information, compared to documentation methods.
Documentation Methods
Paper-based Systems. They allow for the initial documentation of policies and procedures but don't provide a way to easily access or update information for future use. They are usually written, read once and forgotten.
Informal Systems. These systems are easily implemented but consist of fragmented methods for managing procedures. The information may be recorded using multiple methods i.e. Word documents, e-mails, Excel spreadsheets or Power Point slides.  It's difficult to maintain the information within procedures and keep track of changes.
Document Management Systems. They are an improvement over the previous systems since procedures are stored on shared drives.  These systems have additional features such as version control, approval work-flows and text searching. However, they manage documents as a whole, restricting the ability to organize and manage the information within the document.
Procedure Management Applications
Procedure management software is specifically designed to manage the complexity of information within the procedure, making it easy to update information and communicate changes.  These applications provide better capabilities of managing the relationships between processes, policies, procedure work instructions and the information systems used by the process (software applications, forms, records, documents, etc.).
Procedure management applications are able to incorporate small, incremental changes such as procedure enhancements in order to continuously improve information.  Companies can more easily assess the impact of changes and capture and communicate this information to employees.  Managers are  also in a better position to handle day-to-day business situations and address new company challenges, including:
Quality and Process Improvement Initiatives i.e. Six Sigma
Software Implementation Projects
Company Expansions and Re-organizations
Automation Improvements
Taking the evolutionary step of migrating from documents to applications isn't a new concept.  Other business areas have taken the leap of moving from paper-based systems to database applications, including order management, accounting, sales & marketing, etc.  They have recognized the benefits of implementing an application to manage their business area in order to improve quality and efficiency.
Managing procedure information in an application puts your company in a better position to promote future growth.  Please feel free to contact us to see how we can help you make the transition.