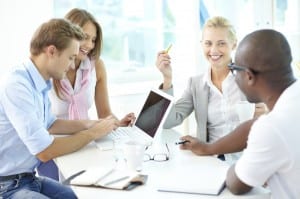 NotoWare software maximizes the use of desktop procedures for better performance and greater self-sufficiency.  It's  a  browser-based application that organizes the activities necessary for developing and using job knowledge. Employees are able easily find and share the latest information, making procedures a practical resource they can use.
NotoWare ensures the smooth flow of information, improving team collaboration.   The application gives employees a convenient way to keep their desktop procedures current by allowing quick implementation of changes. Its' built-in work-flow automatically communicates changes, keeping employees up-to-date with the latest information.
Employees complete their work more easily with improved performance.
With NotoWare, desktop procedures are used by employees as a job aid. Each employee has their own portal, giving them quick access to knowledge content within their procedures. NotoWare allows them to easily get answers to job questions, eliminating the need to perform time consuming searches.  NotoWare empowers employees by allowing:
Improved Performance

– provides knowledge for greater productivity and self-sufficiency.

Simplified Documentation

–  easily captures new and updated procedures information.

On the job learning

– gets employees up to speed faster with hands-on job knowledge.

Increased Efficiency

– minimizes work disruptions with quick access to information.
Managers gain better control and consistency of their business processes.
NotoWare equips managers and their team with the ability to use procedural knowledge as a foundation for developing and implementing new business changes. Business teams can easily keep their desktop procedures up-to-date as they develop new solutions for issues.  NotoWare gives business teams the capability to:
Strategic Planning

– show how procedures are aligned with policies.
Promote Collaboration – gives teams a platform for working with process changes.

Efficient Change Management

–  keep pace with the incremental improvements.

Ensure Quality

– reduces job error by providing clear, up-to-date instructions.
Demonstrate Compliance – assess that users reviewed latest policies and procedures.
To sign up for a free on-line demo of NotoWare, please click on: NotoWare Demo Sign-up.