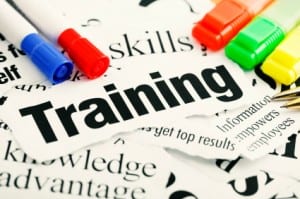 What makes procedure software a great source for training? Procedure software provides a complete system for job information.  Business areas are able to combine procedures, work instructions, user manuals and knowledge based information into a comprehensive system.  They use procedure software as an ongoing knowledge resource for managing and communicating information.  This makes it easier for them to keep up with changes in today's dynamic business environment.
Why re-invent the wheel?  There's no need to create separate training material!  Relevant job information is already captured within the procedure software.  Information is organized into procedures, describing the jobs that employees perform.  This makes it a natural source for training!
Procedure software has extensive job training content:
Detailed work instructions and workflow are included within the procedures.  They contain the tips and tricks of expert knowledge needed to perform a given job.
User manual information is associated with the procedures. Employees know which application screens, forms and spreadsheets, etc. apply to their work.
Knowledge based items, describing additional instructions for complex issues are recorded within the procedures.
Training is an ongoing process!
Procedure software can be used in many areas of the training process, including:
Instructing new employees.  Using procedure software to train new employees gets them up and running faster.  The information is already available for new employees to use as they join the company.
Developing a reference source.  Procedure software provides a handy reference source for job information.  Employees can refer back to the software after the initial training has been completed.
Communicating new instructions.  Procedure software is a vehicle for communicating new job information.  It keeps everyone up to speed!  When existing procedures are updated with new job instructions, employees are automatically notified of the changes.
Providing ongoing training. Procedures need to be continuously updated with new job knowledge.  Procedure software provides a method to record procedure changes and enhancements made to the initial procedure.  The latest job information is then made available to the next person when they need it.
Everyone benefits from using procedure software for employee training:  employees know how to do their job (now and down the road), trainers have a more complete system they can use for training, and managers see an increase in job expertise.