NotoWare is a web-based application designed for managers and their team to plan and implement everyday workplace changes.   NotoWare offers team members an easy and effective system where they can address changes using their job task instructions.  Job task instructions are a recognizable workplace entity that the team can visually see, relate to and understand for planning purposes.  They are lightweight, easy to use documents that serve the long term purpose of implementing decisions on workplace changes.  With NotoWare, team members have a system for expediting planning solutions and sustaining the implementation of workplace practices.
Planning Workplace Changes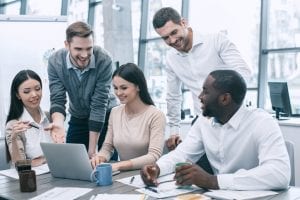 Planning workplace changes is a commonplace activity team members perform to find solutions to issues.   NotoWare expedites this activity by providing a platform that the team can use to investigate and resolve issues.  They can examine issue details by using job task instructions to pinpoint the location of the problems.  As they make decisions on resolutions, they can record and review the solution steps within the instructions.  The updated job task instructions serve the purpose of both preserving solution decisions and supporting the implementation of changes.  NotoWare provides a system where team members are able to be more responsive to resolving issues.
Implementing Workplace Changes
Implementing workplace changes requires continuous activity to accommodate the different learning styles of end users.   NotoWare sustains the learning activity by providing end users a personalized portal for on-the-job support while they are still learning the job details.  To kick-off the learning process, NotoWare notifies end users about job task changes where they can review the instructions along with notations about the changes.  To maintain ongoing learning support, NotoWare provides quick access to answers for job questions, resulting in minimal work disruptions.