NotoWare is a workplace learning application that enables employees to be productive while they are learning their jobs.  It provides employees with on-the-job learning and performance support, addressing their training needs.    Using NotoWare, employees can confidently complete their jobs before learning all of the how-to knowledge details.  With NotoWare, employees have a personalized portal for quick just-in-time access to the latest job knowledge.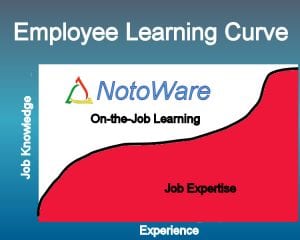 NotoWare is a browser-based software application that provides an efficient system to manage the full scope of developing, maintaining and delivering workplace learning.    The application gives employees and business teams a convenient way to keep information current by quickly capturing changes.  It's built-in work-flow automatically communicates changes, keeping employees up-to-date with the latest practices.  This ensures the smooth flow of information while improving team collaboration and productivity.
NotoWare provides the following benefits to support employee performance and success:
Sustains learning. Research has shown that employees forget up to 70% of their job knowledge content within 24 hours of training. NotoWare's portal supports continuous on- the-job learning by providing quick access to job knowledge.
Increases productivity. Employees are able to get answers to their job questions within seconds, using just a few mouse clicks. With NotoWare, answers to both routine and complex questions are easily accessible to employees without the need to perform time consuming searches.
Empowers employees with up-to-date knowledge. Employees can be confident that the workplace knowledge is current with the latest information.   NotoWare streamlines the activities to get workplace changes captured and delivered to employees.
Provides notification of changes. Employees are informed of job task changes to become familiar with the new information and kick off the learning process.
Facilitates process improvements. Employees can easily capture job knowledge improvements as they are developing new solutions, ensuring that the new knowledge will be preserved and delivered to co-workers.
Maintains consistency. NotoWare provides the capability to use the same training materials for employee training and for on-the-job performance support.