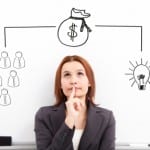 A partnership of shared responsibility exists between an employee and their manager.   Employees are expected to do a good job but they need to be given the right information to help them achieve this goal.  Managers are responsible for providing employees with the most up-to-date instructions for performing their job.  The value of a procedure management system can be determined by how well it accomplishes the sharing of information between managers and employees.  Effectively managing procedures improves communication and employee performance.
Give employees a way that they can get to their procedures!
Companies are responsible for providing their employees with a system that they can use to easily access and communicate procedure information.  Employees shouldn't be required to rely on their memory for job information or spend valuable time searching through files and e-mails for answers to job-related questions.  Their initial job training may only have provided them with a fraction of the information that they need in order to perform their job on a daily basis.
The Value of Procedure Management Software for Managing Procedures
A viable solution is for companies to implement a procedure management software system that makes it easier for employees to get quick access to information.  Ideally, an employee should be able to obtain an answer to a job-related question within 15 seconds.  If it takes too long to find the information, they may give up and guess the answer.  The company then runs the risk of employee error.
With an effective procedure management system in place, employees are more likely to perform quality work.  They can document how their work is performed and make the information available to co-workers.  Procedure management software streamlines the process of managing information, allowing more efficient communication.  When questions arise, employees can quickly look up job information and get back to work with the correct answers.  They also have a consistent method for managing information in a standard, uniform system.
So why haven't more companies embraced the new technology of procedure management software and its' advantages?  They may fear that there's too much effort and expense involved in setting up a new system.  Yet, lack of an effective procedure management system can be even more costly, resulting in employee inefficiency and dissatisfaction.
Companies must take a critical look at their current system and ask the following questions:
Does it  take your employees more than 15 seconds to get an answer to a job-related question?

Are your company procedures stored all over the place (word documents, handbooks, e-mails, files, etc.)?

Is valuable job information lost when an employee leaves your company?

Is it difficult to locate the latest version of a policy or procedure?
If the answer is yes to any of these questions, then it may be time for change.  It's only fair to give employees a procedure system that empowers them and makes their job easier.  Managers need to invest in the latest technology for the good of the company and its' employees.
Download Tip SheetSimiplify Procedure Management
Related topics: