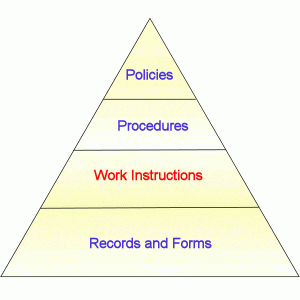 Work instructions are the most dynamic of the elements included in a typical documentation pyramid.  They are continuously changing and being updated which is a positive aspect of their nature since changes often represent an improvement to the status quo.
Historically, a lot of focus has been placed upon documenting policies and procedures which are at the top of the documentation pyramid. Policies define an organization's goals and procedures describe the methods used to implement and perform the stated policies.  Records indicate how the policies, procedures and work instructions have been followed and may consist of forms, spreadsheets, etc.
What about handling work instructions? They are towards the bottom of the pyramid but represent an important component of an employee's job. Work instructions are the most detailed portion of the documentation pyramid and portray an employee's explicit job knowledge.
System for Managing Work Instructions
Work instructions describe the detailed steps of how an employee performs their work. They are more dynamic in nature and contain job knowledge expertise, making them an ideal training reference. The question is how do most companies handle documentation of work instructions?
You can get the most benefit out of your work instructions if you have a reliable system in place to manage them.  Important system requirements to consider are:
Is the system designed to provide answers to job-related questions about the work instructions within seconds and just a few mouse clicks?
Can employees obtain quick access to both routine and more complex scenarios for non-routine instructions (they may require branching with decision logic and related steps).
Does the system allow you to include options for adding images and videos if more content is needed to explain the work instructions?
How does the system handle changes and are they communicated to employees in an efficient way so that the user is always working with up-to date information?
These are just some of the things to consider when documenting work instructions. Having a consistent method and reliable system in place makes it easier for employees to perform their job. It promotes job efficiency and accuracy, leading to better quality and business practices.