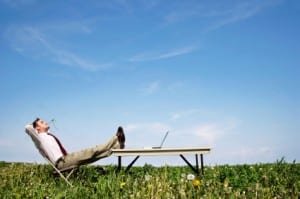 NotoWare makes it easy to organize and manage procedure information in a user-friendly, browser-based application.  It takes the headache out of the documentation process by providing a simple approach for recording procedures and work instructions that anyone can learn to use. With NotoWare, procedures become an integral part of the business process instead of documents that are written, read once and forgotten.  NotoWare's innovative design allows managers to have more control and make better use of procedures in three main areas:
1. Reduce Documentation Time
NotoWare simplifies managing procedures with the use of a single application instead of a bunch of Word documents or PDF files.  It gives you the flexibility to enter only the key information that employees need in order to perform their job.  NotoWare provides the option to record quick notes instead of lengthy content. Documenting information becomes an easy process for multi-purposes, including large projects where technical writers and interns are dedicated to recording processes and procedures.  NotoWare also handles incremental changes, initiated by employees or managers who need to make only small- scale document modifications.
2. Systemize Business Processes 
NotoWare is a tool that managers use to get valuable information out of an employee's head and into a manageable system.  NotoWare allows companies to build a knowledge repository where employees can access job information within seconds for training purposes and future reference. NotoWare's unique application design provides a method to organize procedure information so that process changes can be quickly implemented.  It gives managers the flexibility to decide how information should be structured for their specific business area.  They have more control over determining who has the authority to write, review and approve procedures.
3. Quickly Access Procedure Information 
NotoWare is a convenient and reliable Go-To-Source for the latest procedure information.  It allows quick retrieval of process and procedure details within seconds, using a convenient drill down menu or search engine.  This saves time since other systems make it difficult to access and update specific information without reviewing entire documents.  With NotoWare, you can easily locate a particular section within a procedure and review or modify its' content.
For more information, please watch our video about how NotoWare bridges the gap between employees and job knowledge:
Related articles:
Four Key Aspects of Procedure Management