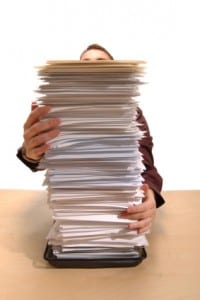 When an employee begins a new job, they are bombarded with a ton of information.  This includes orientation package material and details about how to perform their specific job.  It's a challenge for employees to retain all of this new knowledge.  In addition, changes will occur during their employment, resulting in them getting oriented and trained on new information, again.
Training and orientation are an ongoing process and not a single event.  Companies are faced with the challenge of trying to continuously maintain information so that employees are kept up-to-date and valuable knowledge isn't lost.  Managers need to evaluate:
How will employees remember their initial training information? Employees need a reliable job knowledge reference that they can quickly access for answers to job-related questions.  This way they aren't relying on their memory or notes for information.
What's the best method for communicating new information?  Changes are constantly occurring due to the dynamic nature of the business environment, including modifications made to company policies and job responsibilities.  Employees need to be kept in the loop about the latest and greatest information.
Can the information be managed in a consistent way? All business areas need to contribute to employee information, including human resources and individual departments. A uniform method should be used to document and maintain information in order to achieve consistency and accuracy.
Fortunately, there are new procedure software applications available that are designed specifically to manage the complexity of employee information.  The applications are focused on communicating information to employees as opposed to outdated systems that only manage a series of documents.
Procedure software offers a solution for providing the most current information for employee training and a method for communicating future changes.  The software supplies employees with a tailored list of policies and procedures as part of their orientation package, where the information is organized specifically for each employee.  It also automatically notifies employees of any changes made to company information or their job responsibilities so that they are always working with the latest information.
In addition, procedure software gives companies a standard, easy-to-use system where all business areas can manage their information. It provides a built-in structure that guides the user in documenting information so that they only need to worried about updating the content. Policies and procedures and other company information are easily maintained in a single location.
Using procedure software to manage company and job information has the following benefits:
Provides a simple, web-based tool for employee orientation and job specific training.
Allows easy maintenance with automatic management of administrative tasks.
Employee training is an ongoing process with continuous updating of information.
Maintains records of employee document reviews to ensure compliance.
Builds a job knowledge repository for current and future reference.
Please click here for more information about using procedure software as a communication tool for managing employee training and orientation.