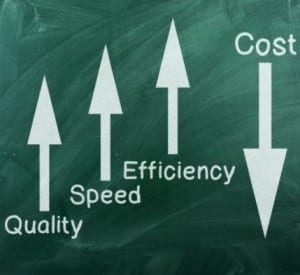 Everyone performs job tasks as part of their day-day work activities. Yet, how many of these tasks are actually recorded and stored for future use?  Focusing on the importance of task instructions may require a shift in company mindset. Managers usually pay more attention to higher level process planning documents such as policies and procedures.  Capturing individual "how to" job details is often overlooked, resulting in missed opportunities for improving the operation of a business.
Retain Job Task Knowledge
There's a cost involved with losing valuable employee knowledge that's associated with their job task instructions. Companies invest a large amount of time fine tuning job details in order to achieve better efficiency and quality.  Capturing  the job task details prevents knowledge loss when an employee leaves their position or forgets how to perform a task.  Retaining this task information allows companies to operate more smoothly and become adaptive to change.
Improve Cost Effectiveness
Successful management of employee job task instructions leads to cost savings.  Organizations benefit from recording and maintaining their task instructions in several ways, including:
Increase in Efficiency.

  Recording task instructions gives employees a way to build a go-to-source for job knowledge.  Providing employees with a job knowledge source prevents them from wasting time hunting for information.  Employees can look up task details in order to more quickly get answers to their job-related questions.

Higher Quality.

  Maintaining task information allows employees to follow established task instructions when performing their job. Using a more consistent method for executing job tasks reduces error and helps improve quality.

Employee Empowerment.

 Providing employees with a list of task instructions that they are responsible for encourages a sense of ownership and empowerment.  They gain a better understanding of their job requirements and what is expected of them.

Improved Communication.

   Maintaining and communicating task instructions ensures that team members are on the same page regarding the work that needs to be completed.
The key to achieving these benefits is to implement a standard system that's flexible enough to manage detailed task instructions in addition to company policies and procedures.
Selecting a System for Managing Task Instructions
There are some important requirements to keep in mind when selecting a system for managing task instructions.  For example, an effective system for managing tasks instructions keeps documentation simple.  It allows users to focus on entering relevant information versus lengthy content in order to minimize documentation efforts. Employees should also be able to record instructions for routine and non-routine task scenarios, associated with process workflows. Capturing both types of instructions allows users to build a more complete knowledge repository.
In addition, an ideal system handles the full life cycle of task management by providing a method for identifying initial tasks while capturing and communicating new job information.  The system is used as a communication tool where team members are kept continuously updated as job tasks are fine tuned and added.  They are able to gain quick access to the latest job information in a single, reliable location.
Listed below is a summary of the features to look for when evaluating a system:
Easy documentation of procedures and task instructions.
Allows recording of process workflows for job tasks.
Captures additional instructions for non-routine task scenarios.
Provides efficient method for updating job information.
Automatically communicates and tracks changes.
For information about using a process system to improve the management of task instructions, click here.