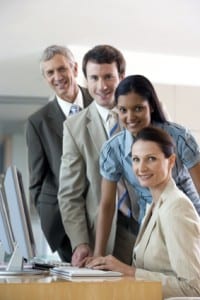 Companies recognize the value of providing their customers with a Knowledge Management System (KMS) that provides information and guidelines about their products and services. There's no doubt that this is a must for many businesses that produce complex products. Customers need a way to quickly search and find answers to product related questions.
There's also a similar benefit that companies experience by giving employees their own internal Knowledge Management System. An employee focused KMS contains information that they need in order to perform their job more effectively. It provides a way of capturing and maintaining instructions that describe business decisions as companies change and improve their processes.
Employee-Based Knowledge Management System Benefits
The goal of an employee centered system is to provide quick access to job information so that employees can find solutions while minimizing work interruptions. The system would contain job knowledge based upon the tasks that each employee performs.
Organizing the system by tasks or procedures is logical since it correlates with how an employee performs their work. A specialized employee- based KMS contains the best known knowledge for how they perform their job. Also, it would maintain the relationship between employees and tasks while communicating any changes made to job instructions.
An employee-based system provides:
Up-to-date job information – employees could find the job instructions they need and quickly get back to work which is especially helpful for those bad memory days that we all encounter.
Training guide for new employees – recorded task instructions can be used as a training resource for new employees. There's no need to re-invent the wheel by using separate training material when the latest job information is readily available in the employee KMS.
Ongoing knowledge resource – employees can record solutions to non-routine tasks in addition to their everyday tasks where the employee's knowledge based system becomes a go-to source for both daily and uncommon job scenarios.
Method for handling employee turnover – job knowledge is an asset which should be preserved in a system to prevent knowledge loss when an employee leaves the company.
The Need for Traditional Knowledge Management Systems
An employee-based application would complement the use of other traditional knowledge management systems. For example, when an employee is faced with a new issue, they may need to research the solution by using Wikis, Document Management Systems, subject matter experts, vendor based systems or Google searches.
Once an answer is found, it may need to be modified or enhanced to become a solution for the specific business issue.  This solution should be captured in the internal employee-based KMS so that it is available for the next employee performing the task. It's a more efficient way of managing job instructions, giving employees access to the most up-to-date information needed to perform their job effectively.
.