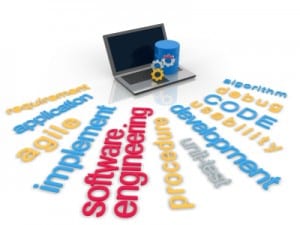 Agile methodology is becoming increasingly popular with its' iterative development approach for producing new software features. Both in house development teams and software vendors have been adopting the agile methodology to improve their ability for providing new features to their users and customers. This has resulted in the production of a greater amount of software versions since they are able to deliver more new features with shorter development cycles. The increase in the number of software versions has placed a higher demand on businesses to be more adaptive and responsive with the implementation and employee training of new software. To keep pace with the increased number of process changes, businesses can follow an approach that is similar to agile development by adopting some of the agile values.
Working Employees vs. Documentation
Agile development follows the principle of valuing working software over comprehensive design documentation. In order to become more agile with software implementation and training, companies can adopt a principle of working employees (using the new software) vs. documentation. The goal is getting employees working faster by providing them with the information about how they will use the new software.  Being agile changes the focus from documentation to communication.
How Procedure Management Applications Speed Up the Change Process
Procedure management applications are more flexible and responsive in communicating new business changes to employees than the documentation approaches of using Word or PowerPoint.  Instead of having to perform documentation near the end of implementation,  procedure management applications provide the functionality to speed up the implementation planning process.  The following is a summary of two areas where planning can be improved:
1) Faster identification of tasks impacted by the software changes: the application maintains a relationship between software features, task instructions and employees. This provides the functionality that speeds up the ability to identify both the tasks and employees affected by the software changes.
2) Improved communication of changes:  the application provides a feature for a lightweight summary of the tasks affected by the changes. It highlights the impact of these changes, communicating them to the stakeholders and end users during the planning process.
Procedure Management Guides Implementation Planning Efforts
Procedure management applications provide a workspace for collaboration with stakeholders and end users for communicating how the new software will be used.  Feedback is obtained from the stakeholders/end users and the procedures and job tasks are modified to reflect the common agreed upon outcome. This iterative process can be repeated until all of the desired changes are made and captured in the procedure management application.
The documentation process is streamlined and focused on communicating the impact of new software changes to employees, reducing the cycle time of implementation and training.  At the time of the software roll-out, employees are notified about the latest procedures so that they can get up to speed with the new information.  The procedures in the application are up-to-date and in a ready state for the next software release.